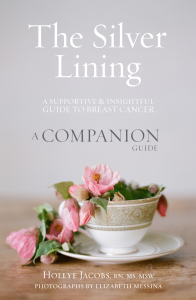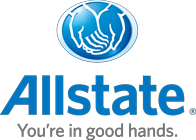 The Silver Lining Companion Guide: A Supportive and Insightful Guide to Breast Cancer is available free, thanks to the generosity of Allstate.
The Silver Lining Companion Guide is a practical and supportive resource to help everyone impacted by a breast cancer diagnosis. Author Hollye Jacobs, a nurse and breast cancer survivor, offers practical, realistic and hopeful advice that helped her from the time of her diagnosis throughout treatments and into recovery. This valuable resource is now available FREE of charge to help you and your loved ones through the experience
Silver Linings are the heartbeat of The Companion Guide. They gave Hollye the perspective, balance and hope to cope with the most difficult circumstances. Hollye's Silver Lining is that she now uses her experience to help others on this difficult path. She is the experienced girlfriend who sheds light in the darkness and holds your hand along the way.
Hollye's words are balanced with inspiring photographs by her friend, co-author and award-winning photographer, Elizabeth Messina. Her images reveal the honesty, beauty and light found within the darkness of breast cancer. They are also informative visual aids for everyone impacted by the disease.
The Silver Lining Companion Guide
is available in electronic and print formats. Starting in mid-October, the printed version will be offered through select Direct Relief partners.
Click here
for a list of participating community health centers and clinics.
The electronic version is offered in English and can be downloaded from the panel on the right hand side of this page. A Spanish Version will be available soon.
Thank you, Allstate, for making this important and helpful book available for free.
About the Authors

Hollye Jacobs, RN, MS, MSW is a speaker, writer, nurse and breast cancer survivor. After being diagnosed with breast cancer in 2010, the 39-year-old mother created
The Silver Pen
blog. The award-winning blog captured her thoughts and feelings about her diagnosis, as well as documented her experiences through a double mastectomy, chemotherapy, radiation and recovery. The Silver Pen reached audiences far beyond Hollye's circle of friends and family and became the foundation for her
New York Times
bestseller, "The Silver Lining." Hollye lives in Santa Barbara, Calif. with her family. You can read her award-winning blog, laugh and be inspired at
TheSilverPen.com
Elizabeth Messina is an award-winning photographer whose artistic images captivate hearts around the world. Her soulful images grace the covers of countless magazines and books. To see more of her photographs, visit
ElizabethMessina.com.
Elizabeth lives in Santa Barbara with her family.